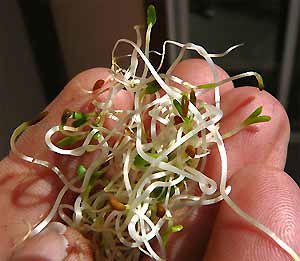 Kowalke Family Sprouts Inc., which distributes through Farmer's Markets, Whole Foods and Gelson's Supermarkets, is recalling all its alfalfa sprout products because the seeds used to grow them were found to be contaminated with Salmonella.
No illnesses have yet been associated with the Kowalke sprouts. The California Department of Public Health announced the recall, which was said to be voluntarily made by Kowalke.
The CDPH said:
All alfalfa, onion/alfalfa mix, cauliflower/alfalfa mix and dinner salad mix products are affected by the recall. Alfalfa products are in 4-ounce, 8-ounce, 1-pound and 5-pound packages. The dinner salad is in an 8-ounce package. The cauliflower/alfalfa combo and onion/alfalfa mix are in 4-ounce packages. The products in question have sell-by dates from March 4 through March 26. The codes are located on the front label of the packages.
Go here for CDPH news.
P.S. We are all but certain there are none of those rizty markets in Alamosa, CO.