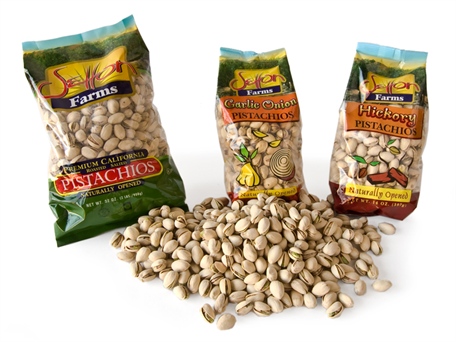 Setton Pistachio of Terra Bella, Inc. has been forced into a nationwide recall of specific lots of bulk roasted shelled pistachios and 2,000 lbs., 1,700 lbs., 1,800 lbs. and 1,000 lbs. tote bags of roasted inshell pistachios sold to wholesale customers due to potential contamination with the Salmonella organism.
This is the recall that has led to the news reports warning against eating any pistachios.
Certain bulk roasted inshell and roasted shelled pistachios shipped on or after September 1, 2008 are involved in the recall. The bulk product was distributed throughout the United States. The Company learned that a small amount of roasted shelled pistachios processed by Setton Pistachio and received by a commercial customer in late 2008 recently tested positive for Salmonella.
The Company is asking those firms who received bulk product and have further processed, repackaged, or distributed the affected products to recall those products and contact FDA.
Retail products in the recall include: Setton Farms brand roasted salted shelled pistachios in 9 oz. film bags, UPC Code: 034325020252 with a "Best Before" date between 01/06/10 and 01/19/10. This product was distributed in the following states: SC, GA, FL, NC, VA, TN, KY. Consumers should not consume this product and should return what they may have to the place of purchase for a full refund. Setton has established a toll free number, (888) 228-3717, for consumers to call for further information.
Here's the press release from Setton Farms that was released by FDA.
Meanwhile, keep reading for what FDA had to say about the larger alert.
…
Continue Reading Pistachios Sold At Both Wholesale And Retail Levels Recalled; Nationwide Alert Issued By FDA